Twenty years ago, Amazon launched the first audio device specifically designed for listening to books on audiobooks. It cost $ 200 and could hold up to two hours of listening time. Today, readers can listen to hundreds of hours on their smartphones and choose from the 35,000 books that come out each year in dozens of different apps and devices.
How the audiobooks started
Audiobooks first appeared in 1932 with the establishment of the recording studio of the American Foundation for the Blind who created recordings of books on gramophone plates. Each side of the plate held each for 15 minutes. The following year, the US Congress approved the amendment that allowed the US Library of Congress to begin producing audiobooks. Initial recordings included William Shakespeare's plays, Constitution and the novel "As the Earth Turns" by Gladys Hasty Carroll. More recording companies have emerged slowly, most to assist the blind. In 1955, the Hearing Bookstore became the leading distributor of registered books. New technology gave new impetus to the growth of cassettes in the 1960s and compact discs in the 1980s. In 1994, the term "audiobooks" was a return to standard industry. The following year, audiobooks were available for download on our desktop computers at home or at work.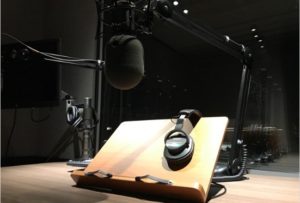 Audio equipment audiobooks
With the fame that audiobooks gained, it led to the boom of endless devices with the best apps to 'digest' this kind of reading through the ear. Amazon's Audible is among the paid platform subscriptions, with apps downloadable on our smartphones, iPads, desktops and Kindle, but there are also many free apps such as 'Hoopla' and 'Overdrive' . Audiobooks on CDs are also on sale and available in bookstores worldwide, as are devices specifically invented for reading audiobooks.
Audiobooks as an industry
As the publishing industry is seeing a general decline in sales of physical books and e-books, sales of audiobooks are booming. The American Audio Association's 2016 annual report totaled $ 2.1 billion in audiobooks, up 18.2% from a year earlier. Sales of coarse-grained physical books were $ 1.8 billion. The amount of audiobooks available has also increased. In 2016, 51,000 audiobooks were published, well above the 7,200 in 2011. Audiobooks have become a faster and widely more widely practiced option by publishers.
Do audiobooks do it for you?
The biggest question today about audiobooks is: Is listening to a book equivalent to reading a book? Some traditional readers do not take audiobooks very seriously, especially if we are talking about the classics, they have tried audiobooks and dislike them. Meanwhile, audiobook proponents say, they read and understand more in the audio version than when they read a book. Some studies show that listening to books does not keep readers focused and that the debate over what is printed and what is audible continues. The answer depends on the person as well as the book.
The future of audiobooks?
Today about 55 million people worldwide listen to an audiobook every year and that number continues to grow. Many audiobook users listen to their free time when they are in the car to go to work or when they are doing something else. As Amazon CEO Jeff Bezos says, "Audible makes it possible for you to read while your eyes are busy with something else." Mobile devices also allow readers to hear constantly, optimizing time and reading more. Others argue that audiobooks are another way to stay online all the time, or as a productivity booster, and to be aware of what's going on all the time. Although audiobooks may not be for everyone, their numbers continue to grow, especially for people under 35 who make up almost half of the frequent audiobooks readers.
SIGAL UNIQA brings Audiobook.al for the first time in Albania
Launched for the first time in 2017, Audiobooks.al is the first project of this nature in Albania, which enables listening to the best audio books aimed at educating the Albanian citizens, in general, and the Diaspora, in particular, to promote knowledge through literature, science, history, culture and other fields by listening to the most prominent authors, foreign and Albanian, for all age groups.
Who can listen to Audiobooks.al?
Everyone, from kids to adults. The best artistic, historical, cultural, school books and children's fairy tales come to you through voice